Summary of Charges and Costs
The costs and charges that apply to your Pension Account and how they might affect the value of your Pension Account over time are as below.
Which? pays for all the day-to-day running costs of the administration of the Scheme with the exception of:
The charges and other costs levied by the investment manager, which are deducted directly from the Funds by the manager.
The cost of administering withdrawals made by you.
1. Investment Manager Charges and Costs
The most recent investment management charges as of February 2022 are as follows.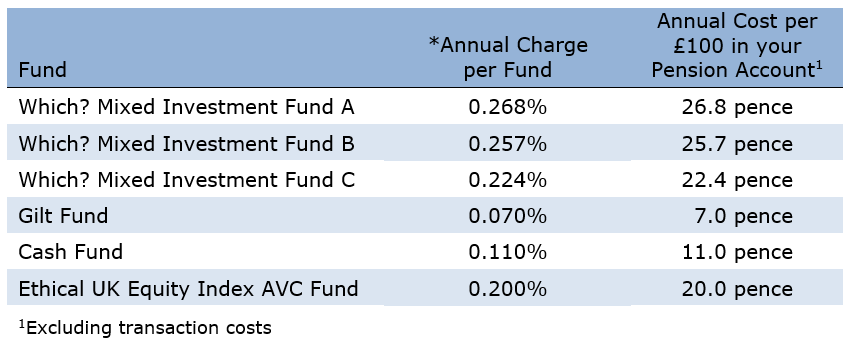 *The Annual Charge may vary slightly over time. It depends on the day-to-day allocation of money in each underlying asset, which itself varies slightly over time.
You will notice that the above table does not include any transaction costs.
Illustration using Charges and Costs from 2020
The figures below do include both the management charges and the latest available transaction costs for each Fund during the year to 31st March 2020.

These charges and costs were deducted from your Pension Account in the way that Legal and General Investment Management (LGIM) decided the daily unit price for each Fund. You may see greater detail about the costs below.
The following Illustration shows the effects the above charges and costs would have on a typical Pension Account over time. The illustration is split according to the different contribution rates that are explained on the page about Accounts.

The values shown are estimates for illustration only and are not guaranteed.
Notes on the illustration of costs over time
The illustration was made with the following assumptions and considerations:
Values shown are estimates and are not guaranteed.
Transaction costs are as at 31 March 2020.
Projected pension account values are shown in today's terms, and do not need to be reduced further for the effect of future inflation.
Inflation of 2.5% per annum.
Charges in future years are equal to charges today (transaction costs are shown in the table above).
Member is aged 25 years old now and stops contributing at age 65.
An overall contribution rate as follows:

9% of annual salary in the first year and 14% thereafter for Which? and Consumers Association members
23% of annual salary until 31/03/2024 and 14% thereafter for Hybrid Switchers
the £ amount of which will increase in line with assumed salary inflation for each case above.

A member salary of £30,701 in Year 0, increasing with inflation.
The assumed annual accumulation rates before charges for the Funds involved in the Default Lifestyling are: Fund A 3.5%, Fund B 2.5%, Fund C 1.5%, Cash Fund -2%.
The illustration has been prepared with due regard to the Department for Work and Pensions' guidance ("Cost and charge reporting: guidance for trustees and managers of occupational schemes"), published in February 2018.
2. Withdrawal Costs
The first time you take money out of your Pension Account the withdrawal is free.
There is a £100 charge for each subsequent withdrawal to cover the administration cost.
Value for Members Assessment
The Trustees are satisfied that the Scheme is priced competitively, taking account of the current asset size and expected growth.
Each year the Trustees carry out an assessment of the extent to which charges and transaction costs borne by the Scheme's members represent good value for the services that members receive.
It is widely accepted that value for members is difficult to assess and while there is guidance on suggested items to cover there is no prescribed method for assessment. The Trustees' conclusion is based on the following considerations.
Members in the Scheme's lifestyle investment strategy pay investment charges of 0.29% per annum on average throughout their working lifetime (assuming the member joins the Scheme at age 25 and retires at age 65).
This is significantly lower than both the maximum allowed of 0.75% and the average charge for schemes of comparable size to the Scheme, which is within the range of 0.4% to 0.7% per annum.
This range is from the most recent survey of charges published by the Department for Work and Pensions (2016), which doesn't differentiate between schemes with low-cost, passive investment strategies and those with more sophisticated strategies, like the Scheme's lifestyle strategy.
Within the fee of 0.29% for the lifestyle funds, members received the following investment related benefits:
Tactical asset allocation within the default strategy aimed at controlling risk (specifically permanent loss of capital) whilst generating long term growth.
Implementation primarily through passive funds via Legal and General Investment Management (LGIM), which has a strong and consistent record for tracking market indices effectively.
Investment performance - the funds have performed ahead of fund objectives and members have received more in investment growth than paid in charges for most of the year to 31st March 2020.
Risk management – the investment strategy takes account of membership needs and controls risks as member Pension Account sizes grow and the need for their protection increases.
Internal controls and operations of the investment manager – these include business continuity plans, external audit of funds, good tracking abilities and transition management.
Scheme members also benefited over many UK DC schemes in that the Employer paid for day-to-day administration, communication, governance of the Scheme, as well as the transitional costs when the asset allocations in the lifestyle investment strategy were changed.
Details of Charges and Costs
Investment Manager Charges
Charges refer to investment management charges other than transaction costs. Members bear these charges, which are deducted from the funds in which their benefits are invested when the investment manager decides the daily unit price.
The charges differ between the investment funds that are available.
See the first table above for the charges per Fund.
Investment Manager Transaction Costs
Transaction costs are associated with different actions carried out by the Member, Trustees or Fund Manager. This makes them a more complicated issue, but they can be split into three areas as follows.
1. Transitional costs incurred as part of changes to the asset allocation following an Investment Strategy Review of the Which? Mixed Investment Funds
For example, in August 2019 the Trustees carried out changes to the asset allocations of Mixed Funds A, B and C, as described on the page about the Statement of Investment Principles.
The changes incurred transaction costs of £7,609.24. Trades were netted off by Legal & General Investment Management (LGIM) where needed, for example cancelling out selling UK Equity from Mixed A with buying UK Equity in Mixed B, or cancelling out sells and buys across LGIM's client base.
These transition costs were not borne by the members, but paid by the Employer as a benefit to members.
2. Transaction costs incurred by members buying and selling funds as part of a lifestyle strategy
A member in the default lifestyle is required to buy and sell assets when automatically switching between funds within the lifestyle strategy.
We estimate that over a member's life, the total cost of switching between funds for each £100 of income invested in the lifestyle strategy is 0.91% (or 91p) in a worst case scenario. This works out as an average of 0.02% (or 2p per £100) per year, as at 31 March 2020.
A breakdown of this cost estimate on a "worst case" basis is provided in the table below. The calculations do not take account of netting-off trades between the funds and also assume that a member pays "bid-mid" unit prices for any sale of assets and "mid-offer" unit prices for any purchase of assets - this constitutes the "worst case" basis.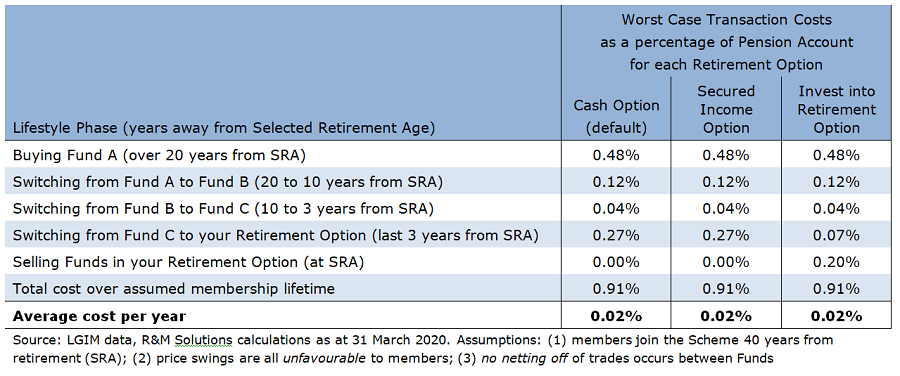 Actively contributing members have experienced transaction cost on the contributions they made over the year to March 2020 plus any switching between Funds. Deferred members may or may not have experienced transaction costs depending on if they switched between Funds or not. These costs are expected to continue in the future at a similar level.
Lifestyling is carried out automatically for members who are invested in the lifestyle strategy. Market conditions are considered in the context of deciding on the composition of the funds in the lifestyle strategy, but not when automatically switching members between funds. The funds are established and governed in a way which is aware of market conditions, therefore it is not necessary - or practical - to consider market conditions for each member each month when lifestyling.
The funds are priced on a "single swinging basis", meaning they may be priced at bid or offer on any day, depending on the net cash-flow from all investors in or out of the fund that day. Therefore, in practice, the cost incurred is unlikely to be the full amount above and may even provide an uplift, should fund prices swing favourably.
It is not practical to split out the actual costs incurred by each member.
3. Frictional costs incurred by members due to the fund manager internally buying and selling underlying assets
As part of day-to-day trading activities, the funds may incur "frictional costs", which are considered as either explicit or implicit costs.
Explicit costs are directly observable and in most cases managers are in a position to report them. Examples of explicit costs include broker fees, transaction taxes and custody fees.
Implicit costs cannot be observed in the same way but do have an impact on fund performance. Examples of implicit costs include the difference between the bid (buy) and offer (sell) unit prices of the underlying assets.
These costs are incurred every time a fund manager makes a trade within a fund - such trades as are intended to improve investment returns, reduce risk, or contribute to the smooth running of a fund. Some costs will be made in response to market conditions (e.g. some active investment decisions), and some costs are in respect of decisions not linked to market conditions.