One of the most anticipated tech events of the year is over, and Apple didn't disappoint after unveiling a total of three new iPhones and a new Apple Watch.
Topping the new pile is the stunning XS Max (pronounced ten-s-max), a huge 6.5-inch OLED phone with what Apple claims to be the most durable glass ever developed for a smartphone. The smaller XS directly replaces last year's iPhone X, and we've now been introduced to the modern alternative to the old-school iPhone SE – the iPhone XR, the 'budget' option in the new range.
On the smartwatch side we have the Apple Watch 4, with a larger display, thinner design and new health features, plus updates to the Apple Homepod. Read on for more.
The iPhone XS – the iPhone X replacement
£999 (64GB) / £1,149 (256GB) / £1,349 (512GB)
The XS was all but a certainty in the run-up to its revelation, the only real doubt surrounding it being how Apple would tackle its name. It's stuck to past principles, though, naming it the XS (that's pronounced Ten-S, not Ecks-S), and it's a moderately upgraded version of the X.
The big news about last year's release was that remarkable edge-to-edge Retina OLED display. That's still present on the XS – totally unaltered which, while perhaps disappointing, isn't terribly surprising. At 5.8 inches in size and with a resolution of 1,125 x 2,436 pixels, it should still be one of the best displays on the market (Apple also claims it's the most durable, thanks to an upgrade to the glass).
The physical case that houses that display is identical both in size and stainless steel/glass composition, although this time around you can get it in a lustrous gold finish, as well as Apple's familiar silver and space grey. The biggest change to the body is an invisible one, as the XS is IP68 certified, rather than IP67 – this means that rather than simply being water resistant, it's actually waterproof (so long as you don't leave it submerged for too long).
Dual-Sim delights
Another exciting, if perhaps a little niche, revelation was the first ever inclusion of dual-Sim capability on an iPhone – although not quite as we currently know it. It uses a new technology called 'eSim'. Rather than physically slotting two Sim cards into your iPhone XS you insert one, then connect to another one virtually.
This is a feature that will only be available from some carriers for the time being (EE, Vodafone and T-Mobile being the UK participants at launch), as it relies on something called a 'wireless service plan'. It means that you connect to your Sim virtually, upon which it acts exactly as if it was physically stored inside your phone like usual.
Both Sims are passive at all times, able to both receive and send communications from either one without you having to perform any sort of swap or activation to change numbers. Dual-Sim is a feature mostly used for those who are in frequent contact with friends or relatives abroad, although it could be a big help for those who currently use a second handset for business.
Then there's the standard processor upgrade which sees the Apple-made A11 Bionic chip replaced with the A12 Bionic. We don't currently know how much faster it is from a CPU perspective, but we do know that it has six cores and allegedly opens apps 80% faster, as well as being 50% faster graphically (which only really matters if you play a lot of games on your phone).
Ram gets a bump up from 3GB to 4GB, but what's more eye-catching than that is the increase in internal storage. In addition to 64 and 256GB options there's a ridiculous 512GB version – a figure that we've only recently seen for the first time on Android handsets, but will perhaps be a little more necessary on an iPhone given its lack of micro-SD card support.
Those hoping for a marked improvement to battery life will be disappointed. Apple stated that the XS will last 30 minutes longer than the iPhone X, although under what circumstances we don't really know. That doesn't sound like much, but it's better than nothing given that the battery is the same physical capacity as the brick featured in the iPhone X.
One other big area that has seen very little change is the cameras. It sports virtually the same dual rear-facing 12Mp cameras as on the X (pixel size has been upped a touch to 1.4µm), and the same 7Mp front-facing camera – although the sensor for it is twice as fast. Video now records with stereo sound and HDR at 60FPS, though, while HDR for photographs has been improved.
You've probably already spied the range of prices, all of which are enough to make you and your wallet wince in collective discomfort. It's to be expected at this point, but the iPhone XS will cost a lot of money, with the 512GB option really rubbing salt in the wound at a staggering £1,349.

iPhone XS Max – big-screen powerhouse
£1,099 (64GB) / £1,249 (256GB) / £1,449 (512GB)
The XS Plus is virtually identical to the Xs, apart from one very obvious, unmissable difference: its absolutely enormous 6.5-inch 'Super Retina' display.
By far the biggest iPhone screen Apple has ever made, the handset itself is actually a tiny bit smaller than the iPhone 8 Plus thanks to the space-saving offered by the edge-to-edge technology. While the resolution is upped from the XS' 1,125 x 2,436 pixels to 1,242 x 2,688 pixels, the pixels per inch actually slips from 463 to 458ppi, such is the difference in screen size. You shouldn't notice that at all though – it should look absolutely incredible.
Out of perhaps necessity more than generosity the XS Max has a bigger battery, too. It's 3,300mAh, compared with the XS' 2,716mAh, and Apple claims that it will last 90 minutes longer than the iPhone X. Ordinarily you'd expect considerably more than that, however the sheer size of the XS means that its display will drain the battery even faster, so a bigger brick is a must.
Other than that, the only remaining difference is the price. The largest-displayed iPhone ever demands the biggest price tag ever, with £1,449 the astronomical asking price for the largest storage variant.
Both new iPhone Xs models will be available in the UK on 21 September.
iPhone XR – this year's 'budget' option
£749 (64GB), £799 (128GB), £899 (256GB) 
There was no 'one more thing' moment at this year's keynote, but there was one more iPhone. The curiously-named iPhone XR is the slightly less flashy, slightly more familiar, slightly more sane of the three offerings, a combination of the iPhones 8 and X and a clear indicator of where Apple feels the future of the iPhone lies.
From the back it looks just like the iPhone 8 – smooth monochrome glass with a protruding camera and aluminium frame, but flip it around and you're confronted with a display that looks just like the ones on the X series. At 6.1 inches in size, it sits between the XS and XS Max, but crucially it's LCD, not OLED. It has a resolution of 828 x 1,792 pixels which, while resulting in a perfectly acceptable 326ppi, is a marked step down from its pricier siblings, as well as using less impressive technology to attain it.
Interestingly, the screen has also ditched 3D Touch, the innovative software first seen on the iPhone 6s that allows users to access a pseudo-right-click function by pressing down firmly on specific objects on screen. It's been replaced by Haptic Touch, which supposedly functions similarly to the clickless trackpad on the MacBook – we presume it will still function in the exact same way from a user perspective, just with different hardware.
It has the same brand-new A12 Bionic chip powering it, although the Ram takes a step down to 3GB. The three storage options are smaller too (64, 128 or 256GB), although that's no great tragedy as the odds of you needing any more than that are pretty slim.
The single rear-facing camera is 12Mp, with the same pixel size and aperture as the Xs. Apple claims it's its most advanced single-lens camera to date, and given that it's capable of taking photos in Portrait mode just like its dual-lensed siblings we see no reason to doubt that. The front-facing 'TrueDepth' camera is exactly the same as on the XS and XS Max.
The size of the XR's battery is unspecified right now, but it's supposed to last 90 minutes longer than the iPhone 8 Plus.
Despite all this tech, the most eye-catching thing about the XR is probably its range of colours. Reminiscent of the wildly popular iPhone 5c, the XR is available in yellow, white, coral, black, blue and red.
It's markedly cheaper than the XS range, but still more expensive than the iPhone 8 was at launch – even for those looking for a cheap option, the iPhone is growing ever more expensive.
The iPhone Xr is set to be released in the UK later than the Xs and Xs Max – 19 October is the date. All three devices will ship with iOS 12 installed, with that latest update to Apple's mobile OS becoming available for other, older handsets to download and install on 17 September.
iPhone X discounts on the horizon?
One last interesting takeaway with the iPhones is actually something that has occurred outside of the main event. Rumours swirled in the build-up to this reveal that Apple would be discontinuing the iPhone X.
Looking at the Apple website this would seem to be the case – if you attempt to view the pricing it simply states that it's 'available from official resellers'. Use of the term 'resellers' would seem to imply that production on new models is coming to an end.
The Apple Watch 4
GPS (£399), GPS + cellular (£499)
The fourth-generation Apple Watch has been launched and, while it retains its iconic look, it also represents, in Apple's words, 'fundamental redesign and re-engineering'. Apple claims the watch has now become 'an essential part of people's lives'.
It runs off the new watchOS 5 software, and contains a powerful new dual core 64-bit processor for (allegedly) double the performance. It's slimmer than the Series 3, but has a new edge-to-edge display that's over 30% larger than the previous Apple Watch. The digital crown has been redesigned to give haptic feedback for a more precise, mechanical feel, and there are three new dynamic watch faces – moving flames, bubbles and vapour.
The new watch face has eight 'complications' – icons you can touch from the watch face to open certain apps, and you can customise it with things you care about – for example, you could add friends and family to the watch face and tap to connect with them. Or you could tap to access different time zones, or customise the watch to create the ultimate fitness watch. More apps have been added – you can now, for example, track the live score of your favourite team, you could track your boarding information for a flight with the Qantas app or you could track your nutritional intake with the LifeSum app. Updates have also been made to the maps and calendar apps. And a Breathe app will guide you through deep breaths.
Apple Watch 4 health benefits
The biggest change, however, is the addition of three new FDA-approved heart monitors. Apple says the watch is designed to be an 'intelligent guardian for your health'. Using optical heart sensors, it will notify you if your heart rate is too low, and it will detect atrial fibrillation – irregular heart rhythms.
But the real game-changer – for US consumers, at least – is the ability to now take an ECG (electrocardiogram) yourself, at any time. This is the first ECG product to be offered over the counter directly to consumers. All you need to do is to place your finger over the digital crown for 30 seconds to get a heart rhythm classification. You can download this information into a PDF file and share it with your doctor, so that they have a detailed picture of your heart rhythm. This feature will be available in the US in a couple of months, and Apple says it's working hard to bring it to other countries. We'll update you when we know more about when, or if, this feature is going to be available in the UK. Apple claims that all of your health data will be encrypted, but of course we'll check this once we get it to our lab.
Another new feature is the ability to detect falls. Using an accelerometer and gyroscope with twice the dynamic range of the Series 3, it can collect motion data eight times faster. If the watch thinks you have fallen over, it gives you the option to make an emergency call. If you're immobile for a minute, it makes an emergency call automatically and sends a message to your emergency contact automatically. 
The speaker has been redesigned to be 50% louder, which should be great for making phone calls, giving Siri requests or using the new Walkie Talkie feature. And the microphone has been moved to the opposite side of the watch to keep it far away from the speaker and reduce echo and make phone calls clearer. Radio waves can now pass through the front and back (made of black ceramic and sapphire crystal) for better cellular connection.
And, whereas cellular connectivity was previously limited to EE, now it also works if you're on Vodafone.
It's not all new
Some aspects have remained unchanged – as you'd expect, it has built-in GPS and you can use it for swimming in a pool or ocean (though not for scuba-diving or water-skiing). And it continues to automatically detect when you're working out and notify you if it detects an elevated heart rate.
It also has the same 18-hour battery life as it did before – which is disappointing. In contrast, Samsung claims the new Galaxy Watch will last as long as seven days – claims we'll soon be putting to the test in our lab.
The rectangular design is sticking around, which is no surprise given how recognisable it's become. The latest Apple Watch will be available in 40mm and 44mm versions, whereas previous versions came in 38mm or 42mm versions, and the additional millimeters are to make way for the larger display. That's all very well, and it may not seem like it would make a big difference, but will the rectangular bezel still be comfortable with the extra size? In a world of giant smartwatches, a lot of users liked the size of the previous Apple Watches, but we'll check it out when we get hands on with it soon.
Silver, gold and space-grey aluminium-finish bezels will be available. As with previous versions, you'll be able to get special edition bands from Nike (with reflective material for those who like to run outside of an evening or in the early morning) and Hermes to go with the Apple Watch 4. Your existing bands will also work, though.
Apple also claims the watch has been manufactured in an environmentally friendly way.
From Friday 14 September, you'll be able to order the Apple Watch Series 4 with GPS for £399 and the Apple Watch Series 4 with cellular for £499. They'll be available from Friday 21 September.
So, should you be replacing your Series 3? We'll have a full verdict on that soon.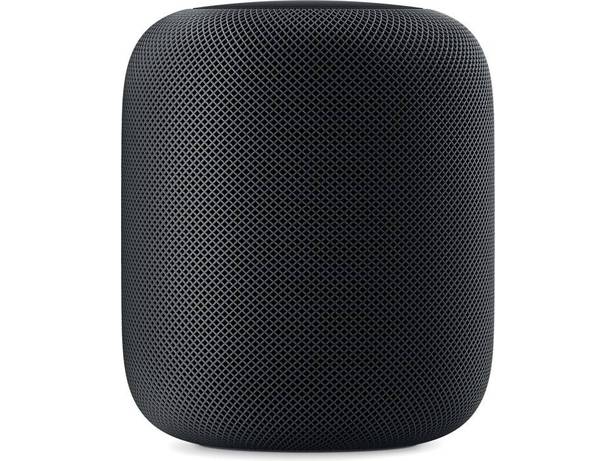 Apple Homepod, Recycling, MacOS and more
There were a couple of punctuation marks to add to Apple's headlines, as it also used its presentation to get through AOB (Apple's Other Business). Here's the news in-brief.
Apple Homepod
The Homepod speaker will be getting a software update that enables the following features: Siri Shortcuts, which are basically apps you use with your voice, will be available. You'll also be able to use the Homepod to find your iPhone or iPad if it's lost in your house. Finally, you can also now make phone calls using the HomePod.
Recycling and environment
Apple updated us on its environmental efforts. It says all its facilities are now 100% powered by renewable energy (presumably this does not include factories, which are not owned by Apple). The company also detailed its increased usage of recycled materials in some components of the iPhone, but admitted there's a long way to go.
MacOS
The next version of the MacOS operating system will arrive on 24 September for compatible iMac and MacBook devices, promising intriguing features such as 'dark mode', for evening use, better file organisation and social network security.
Two billion iOS devices sold
Need a reminder that Apple is quite a successful tech company? It announced it has crossed another milestone, with two billion devices running iOS sold around the world. That's another headline stat after the firm announced it passed 1.2 billion last year.
Mac vs OS vs Chromebook – not convinced by Apple's ecosystem? Find out if you're a Mac, a PC, or a Chromebook.